The university provides dormitory to all foreign students.
Students live in the blocks (8 rooms for two or three places) with all modern convenience. All dormitories are equipped with full-time employees. All dormitories are provided with furniture and necessary equipment and facilities. There are study rooms, facilities for sporting and cultural activities, canteens.
---
First days in Mogilev
An applicant should inform the International Relations Department of the University about the date and time of his arrival in Mogilev in advance, in order to clarify the address of the dormitory to reside.
On arrival in the dormitory an applicant can refer to the watchman, he will show the room and give the key. Students arrived in the dormitory for the settlement should provide:
A copy of an invitation.
A medical certificate of health from the University, fluorography (FLG) from the country of residence (certificate must be provided within 3 days).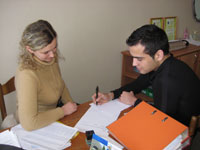 After settling you should come on the same day at the university, if you come in the morning or afternoon or on the next day if you come in the evening. It is necessary to take passport, migration card, and documents for training.
University address: Kosmonavtov str., 1, the Department of International Relations (3rd floor, rooms 309, 310).
The specialists in the Department of International Relations will tell you the date and time of the exam (interview), will help to fill in all necessary documents for the interview and registration.
Admission of foreign citizens in the Department of International Relations: from 9.00 to 17.00. Weekend: Saturday and Sunday.