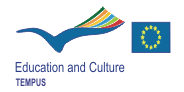 The head — Kiseleva Dina Vladimirovna, the associate professor of the biology department, the professor of agricultural sciences.
General information
The centre was founded according to the chancellor's order in May, 18, 2007. Due to the centre's work the lections were compiled and introduced in the lection course of ecological disciplines. The centre actively cooperates with the regional ecological pupils' association, the regional committee of natural resources and environment protection, cocial ecological association "Endo", etc. The centre founded ecological library where hundreds of books including e-books are gathered. The centre also includes an informative group dealing with the problems of Chernobyl catastrophe results.
The aim is the optimization of scientific research in the field of ecology and environment protection, its introduction to the practical usage and educational process, ecological education of students and Mogilev population.
The main spheres of activity:
Scientific research work taking into account preferable tendencies of science and education development in the Republic of Belarus
The expansion and strengthening of scientific work and educational process connection, the teachers' staff professional development
The usage of the scientific research results in the educational process
Tight creative contacts with scientific organisations of The National Academy of the RB and other social associations.
The site: https://fme.msu.by/index.php/kafedry/kafedra-estestvoznaniya/enots-ekologicheskij-nauchno-obrazovatelnyj-tsentr
Contact data: Mogilev State A. Kuleshov University, Faculty of Natural Sciences, 212022, 1 Kosmonavtov str, Mogilev, Belarus
Phone: +375 29 333 26 83; +375 222 26 47 23
e-mail: This email address is being protected from spambots. You need JavaScript enabled to view it.
The released products' pictures: