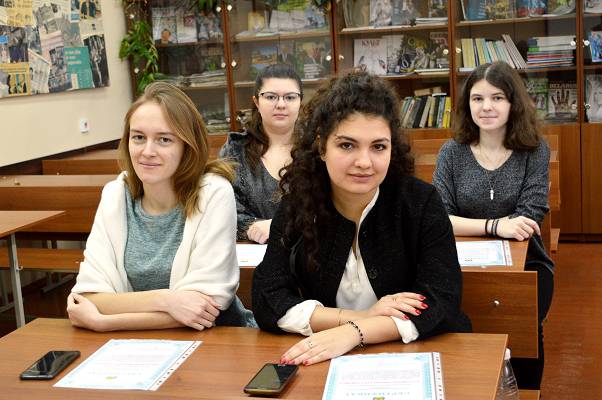 From February 10 to 20 students from Kolomna were trained on the basis of our university in the framework of the cooperation agreement between Mogilev State A. Kuleshov University and State Social and Humanitarian University (Moscow Region). The internship was carried out in the following areas: S. Vasilyeva and S .Mustafina (history of Belarus and the East Slavs) studied at the Faculty of History and Philology, and A. Mikhaylin (natural science), M. Prozorova (mathematics and methods of teaching mathematics), V. Afanasyeva (mathematics and computer science) studied at the Faculty of Mathematics and Natural Sciences.
The acquaintance of Kolomna students with the traditions of Mogilev A. Kuleshov State University began with a meeting with the head of the Department of International Relations, Sergey Machekin. He spoke about the main areas of international activity of the university. In accordance with the program of stay at our university the interns were distributed in specialized departments. Each of them was assigned a curator.
Students got acquainted with the experience of the faculties, got an idea of the scientific developments of the faculty. The internship program included attending classes, during which the trainees received an idea of the forms, methods and teaching aids used by university teachers. Russian students gave high marks to the classes attended.
In addition, excursions were organized for trainees in the Hall of Fame of the university, in city and regional museums, and city tours. Guests of the university were able to get an idea of how the students of our university live communicating with representatives of student activists of the faculties.
Based on the results of the internship program, Russian students prepared reports that were heard and approved at the departments. On February 21, the presentation of internship certificates was held in a festive atmosphere at a meeting of the University Council. The documents were handed to the interns by the rector of Mogilev State A. Kuleshov University, Professor Denis Duk.
It is important to note that 8 students of the Faculty of History and Philology underwent an internship on the basis of a partner university of Kolomna. Matvey Konopelko, a second-year student says: "Everything was interesting; I liked the academic work and the excursions, the life in the hostel. All teachers are professionals. Despite the fact that our path lay in Kolomna, we spent much time on excursions in Moscow."
Andrei Stepanov (a second-year student) says: "Staying within the walls of the University of Kolomna left a lot of impressions. For 2 weeks we were able to familiarize ourselves with a new teaching style. The overall impression is positive. During this time, we had many excursions in Kolomna and its environs."